This i8 Is The Police Car Every Force Probably Wishes It Had
German tuning house AC Schnitzer showcases a modded i8 that's both safe and legal.
https://bvzine.com/link/this-i8-is-the-police-car-every-force-probably-wishes-it-had
Modding a car in Germany is notoriously difficult — or at least it's easy to make a move you're going to end up regretting. The Technical Inspection Associations (TÜVs) rule with an iron fist, making sure nothing dangerous makes it onto the road. That means certifying the safety of every aftermarket part and their installation, plus regular inspections of your vehicle (often followed with a list of things that need fixing).
Just because something's difficult, though, doesn't mean it's impossible, which is the message the admittedly corny-named TUNE IT! SAFE! campaign is looking to drive home. Supported by Germany's Federal Ministry of Transport and Digital Infrastructure — unfortunately Wikipedia doesn't really give a full explanation how those two things ended up in the same department — the campaign showcases safe, legal vehicle mods. And what better way to emphasize the legality of the work done than doing it to a police car?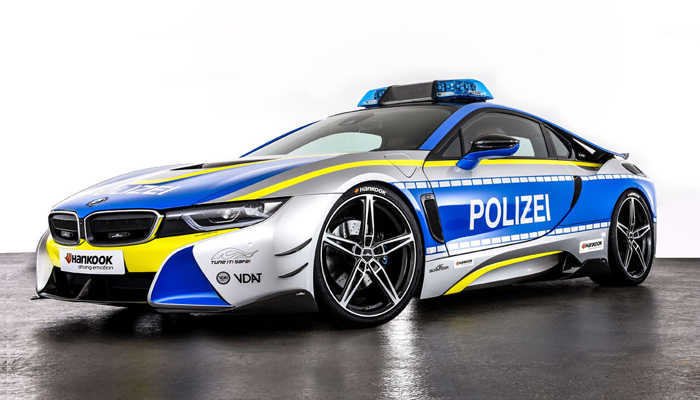 Every year since 2005, TUNE IT! SAFE! has presented a police car concept, showing that sticking to the TÜV's legal restrictions doesn't have to mean missing out on tuning your vehicle.
This year it was the turn of tuning house AC Schnitzer, who decided to take a BMW i8 as a starting point. Not something we often see the police driving but OK. The end result is a car that, besides being vehicle any car enthusiast is going to be impressed by, would actually be pretty useful for the police.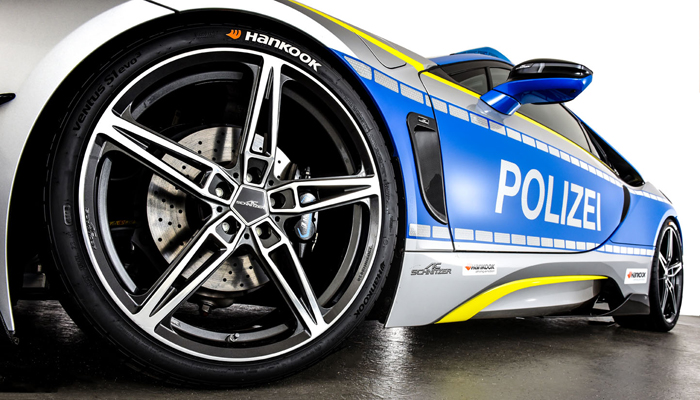 AC Schnitzer began by lowering the suspension around 20mm at the front and back, giving a meaner stance that's also going to give better stability in corners. So good for car chases and stuff like that, I guess. The company makes a point of the fact that its spring kit has been extensively tested on the Nürburgring and public roads, and meets the TÜV's requirements, so you shouldn't have any problems doing this to your own i8 if you happen to be German.
The next step was to switch out the rims for a lightweight set of 21-inch forged wheels that are almost 10 lb lighter per wheel than the factory alloys. They're promised to improve car's lateral dynamics, once again something that professional drivers and enthusiasts alike are going to appreciate.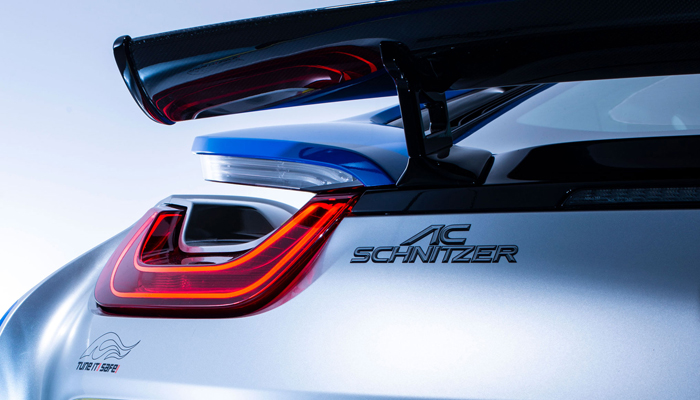 The i8 already has a striking look, and wrapping it in police livery is only going to grab more attention, so AC Schnitzer didn't need to go too hard with the bodywork. The tweaks made were focused on aerodynamics and generating downforce, and crafted entirely from carbon fiber to keep weight down.
A front spoiler, side wings and a bonnet top on the hood ensures the car's nose stays glued to the road, and side skirts, a "racing" rear wing and three-part diffuser do the same at the rear. AC Schnitzer claims that its changes result in more even downforce across the car, making handling more predictable.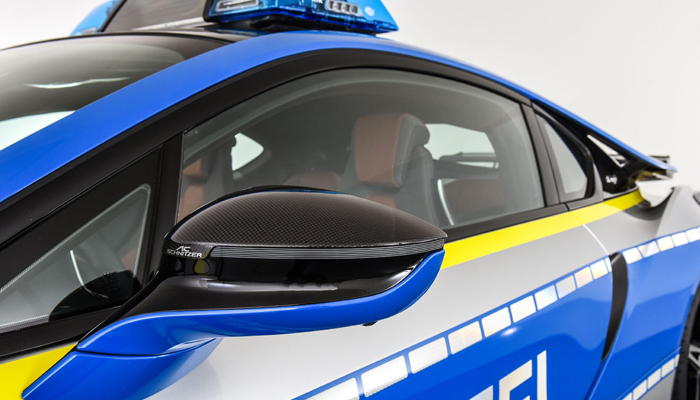 Just to make sure the car performs its best, it's also picked up new door handle shells, wing mirror covers and a kidney grill, to improve air flow along the vehicle.
Because driving isn't all about how you look from the outside, AC Schnitzer also made a few changes to the interior, including using aluminum for the shifters, pedal and iDrive controller to "emphasize the lightness of the interior design". Well, alright then. The interior of the i8 is already nice enough, particularly the E-Copper leather in this vehicle, so not much needed to be done.
If you want to see how the whole car came together, check out the video below, which even comes with a hard electro soundtrack to put you in that distinctly German mood.