5 Frankly Ridiculous Luxury Features We Want To See In The X8
Come on BMW, hit that big button with "fancyyyyy" written on it.
https://bvzine.com/link/5-frankly-ridiculous-luxury-features-we-want-to-see-in-the-x8
The sheer immensity of the new X7 is probably still seared into your eyeballs since its launch at the LA Auto Show last week. BMW isn't the type to rest on its laurels, though, so the rumor mill is already talking about the possibility of it being topped by an X8 in 2020.
Whereas the X4 and X6 took the X3 and X5 and made them kind of pointless for anybody with luggage and/or adult-sized passengers, the X8 apparently isn't going to go down the fastback route. But it will have fewer seats — probably four in total, compared to the X7's seven — and cost more, which can only mean one thing: extra opulence!
BMW already has experience in the OTT SUV game thanks to the Rolls-Royce Cullinan, a vehicle so magnificent it actually has its own website. Unlike the Cullinan, the X8 isn't going to come in at $325,000, so we're going to have to temper our expectations a little. Still, the X8 is going to need to have a few standout features to justify the price hike over the X7, which is as good an excuse as any to have a few wild stabs at what they might be.
1. Targa top
There have been rumors for a while that BMW would launch a convertible SUV because why the hell not. But the Range Rover Evoque has been there, done that, not really got the sales, so what can BMW do to stand out?
Add a little sportiness, obviously, with a soft-top Targa style roof. I have no idea how any of this would work, but it just has to be the answer. The middle ground between a Grand Cherokee and a 911, for anybody who just can't choose between them. That's truly uncharted territory. Be brave, BMW.
2. Velvet wrap as standard
All the cool kids are wrapping their cars in velvet, you know. Case in point: the coolest kid of all, Kylie Jenner, who had a velvet G Wagon until she got a Maybach instead.
Velvet's so obviously unsuited to driving off-road or hauling goods or doing anything at all with your car that slapping it on an SUV — which were supposed to be all about utility — is pretty much just saying IDGAF. Offering several shades of velvet from the factory would help BMW differentiate the X8 from all the other luxury SUVs that are still half-pretending to be somehow useful, not just a status symbol.
3. Hammocks
You might be buying the X8 to drive yourself, but it's just as possible you'll be too tired from your high-paced jet-set lifestyle to take the wheel. With fewer seats than the X7, it's probably safe to assume there's going to be more space in the back, perfect for anybody who's letting somebody else drive.
There's only so much comfort a seat can give you, though, no matter how soft the aniline leather is, how far it can recline and how expertly a team of orthopedic specialists designed the massage function. To really live the high life as your chauffeur whisks you between business meetings and holidays in Fiji, you need a) a piña colada served in an actual coconut, despite that being more gimmicky than enjoyable; and b) a hammock. You'll have to figure the first bit out for yourself, but BMW should take responsibility for the rest.
4. Heated iDrive controls
Heated steering wheels are starting to go mainstream, and plenty of our more pampered northern cousins swear by them. But imagine this hell on earth for a second: you're driving, perfectly happy, until you need to adjust some vehicle settings, at which point your toasty fingers have to reach over to the ice cold iDrive knob for upwards of three seconds. Pfft, so much for luxury.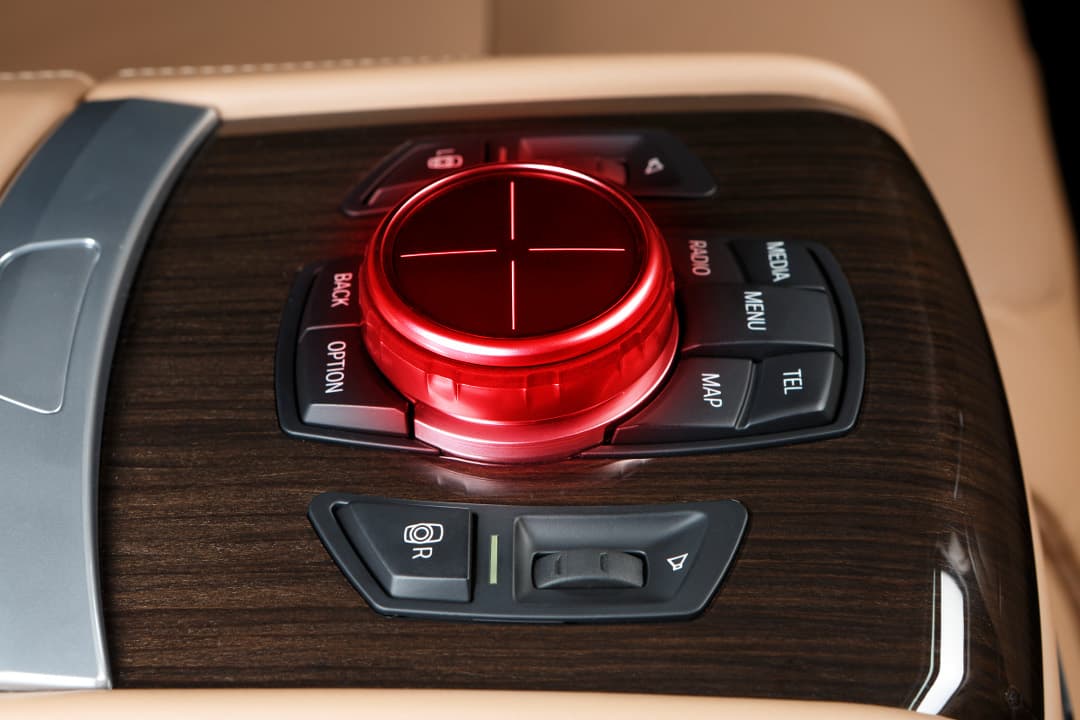 It's an easy problem to fix, though. Just put the same technology you're using to keep the steering wheel at a tolerable temperature in pretty much every part of the interior. The iDrive knob, the window buttons, the suede-lined sunglasses holder because obviously you don't want a cold pair of Ray Bans stinging your wonderful skin.
5. CarPlay without the annual subscription fee, just like every other car brand, oh and also Android Auto
Actually, that's probably asking a bit too much...